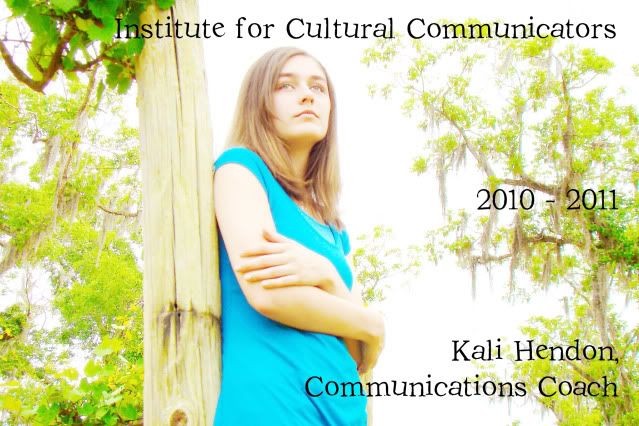 Here's the big news at our house:

Kali has successfully completed the application process, and has been invited by Mrs. Moon to be one of the Institute For Cultural Communicators Interns for 2010 - 2011.

Kali loves speech and debate, and she has a real passion to help other students learn how to express their faith. This is just our second year with ICC and Communicators For Christ. Kali jumped in with both feet, as you can tell by all the travel posts on this blog - lol! This is her heart now - to teach other students how to stand up for Christ and be accountable, to share with them how to tell others about God.

Right now there are ten others on the team. They come from all over the United States and are led by Mrs. Teresa Moon. The intern team will travel the country teaching workshops on speech and debate. What an awesome, incredible opportunity for Kali to have. Much, much prayer has gone into this application and decision process. Please continue to pray for Kali and her team members as they prepare to go on tour. Kali reports to Tennessee on July 5th and will be gone until at least mid-November.

What will I be doing with my spare time? I don't know. I guess I'll be posting lots of pictures of flowers :(. Seriously, I will probably attend the parts of the tour that occur on the east coast and provide whatever assistance I can. In the meantime, tournament season is upon us and we leave for South Carolina tomorrow morning. Talk to you from there next!