Kali and I just returned home from the Georgia NCFCA Qualifying Tournament. The NCFCA (National Christian Forensics and Communications Association) is a Christian homeschool speech and debate league. This is Kali's third year competing. Above you see my beautiful daughter's look of pure joy shortly after it was announced that she had taken first place in the Lincoln Douglas Value Debate Speakers category. This is based on speaker points given by each individual judge during the debaters six debate rounds. There were so many talented speakers at the tournament, Kali was blessed, and honored, to receive this recognition.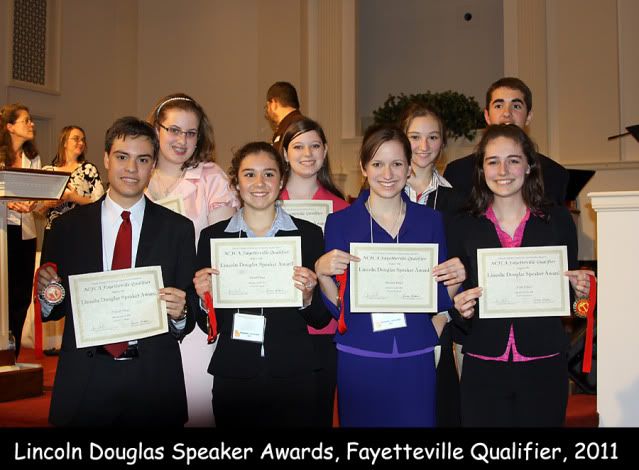 The top eight speakers, you have to look at them from right to left because we loaded the platform backwards. Sorry.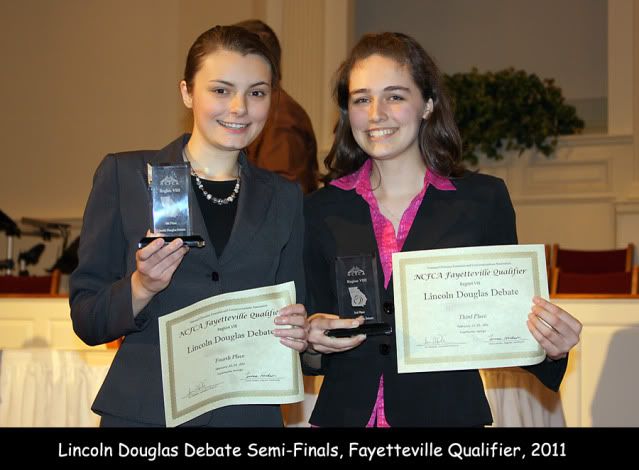 During the actual debating, Kali took third place.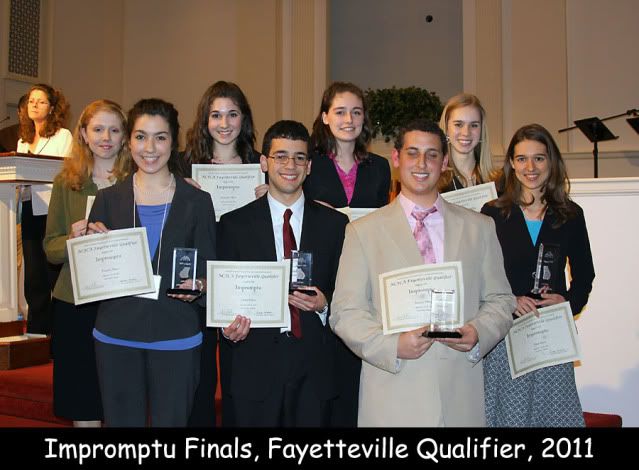 Kali also competed in Impromptu and took sixth place. Impromptu is a limited prep category. The speakers draws three slips from a spread of face-down papers, which have a variety of random topics printed on them. The topics might be random words like: lampshade, ears, watermelon, machinery, basically anything, or it might be a compilation of quotes. The timepiece begins when the student touches the first paper. They get two minutes to decide which topic to use, and to prepare a five minute speech on that topic, which they then give on the spot. They are not allowed to use any notes when giving their speech. Kali has been getting better with this speech category and placed 6th, the highest she's ever gotten with it. She made it all the way in to the finals round.

At this tournament she qualified in debate and impromptu to compete at the regional competition, which will include three states. She also qualified in Humorous Interpretation at an earlier qualifier. Way to go, Kali! Great job!