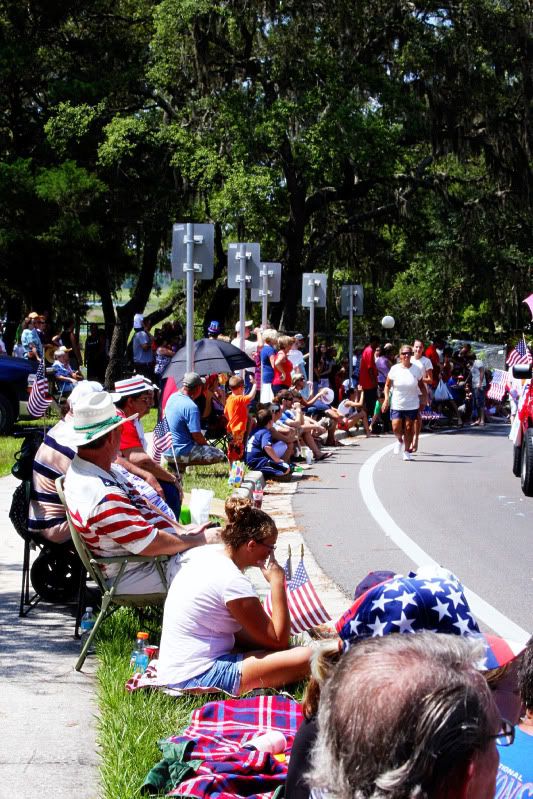 Happy 4th of July! We celebrate this day in many ways - cooking out on the grill, swimming at the lake or beach, visiting with friends and family, stopping by the gravesites of veterans who fought to secure and safeguard our freedom, being thankful to live in the United States of America, and of course, there are always the parades! Got to get there early to grab a great seat!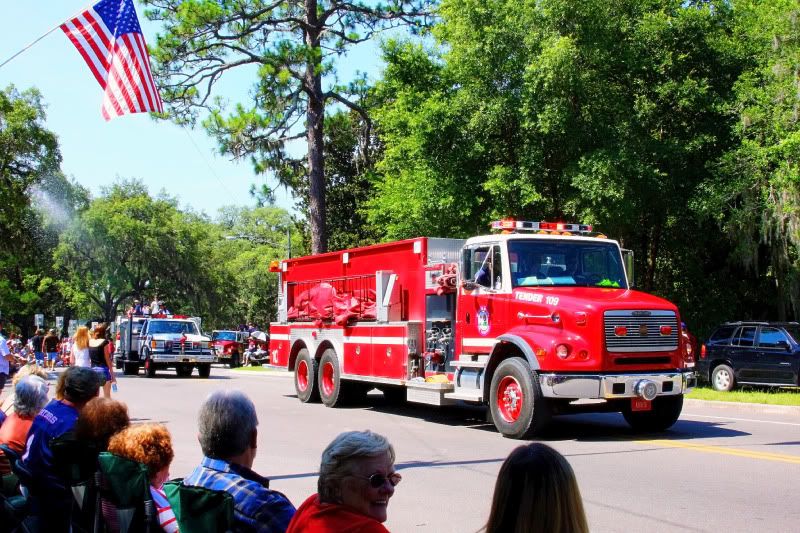 I don't know about your parade, but where we live the parade always starts with fire trucks :). I think the lady in the second shot was a little water-hose-happy in the heat! lol!


This lady was by far my favorite character in the parade! Her float represented Lake Area Missions.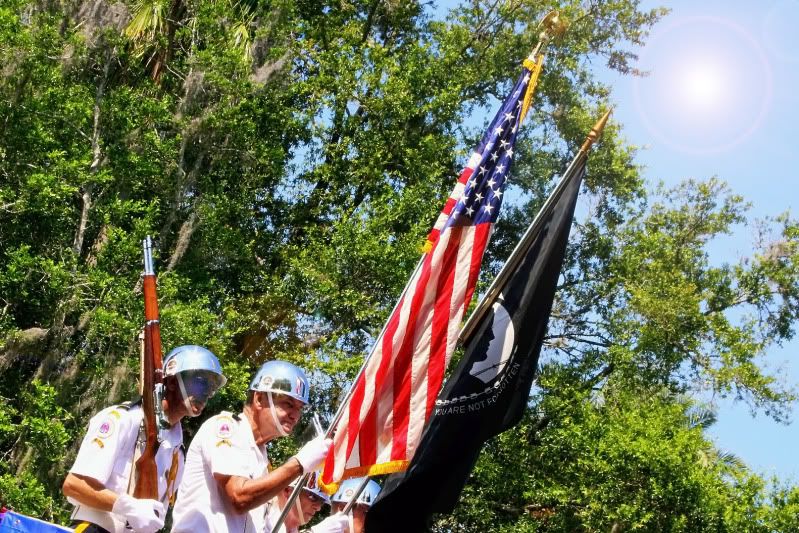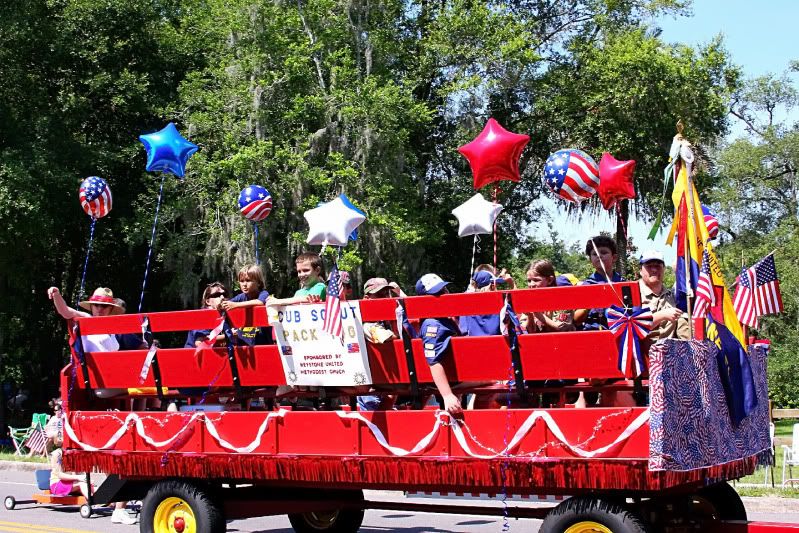 Cub scouts, a welcome sight in any parade :).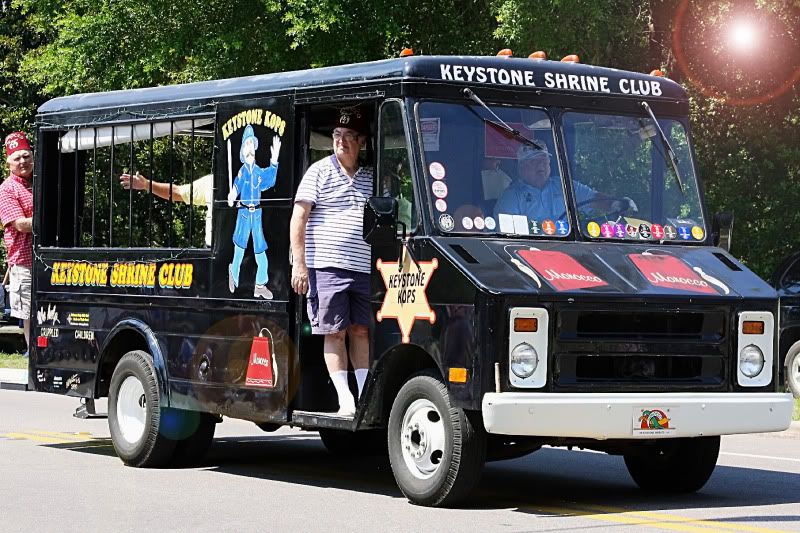 The Shriners always "fun up" a parade! I always look forward to the Keystone Kops! a namesake, so to speak.


People come early to stake out a good spot. What great seats!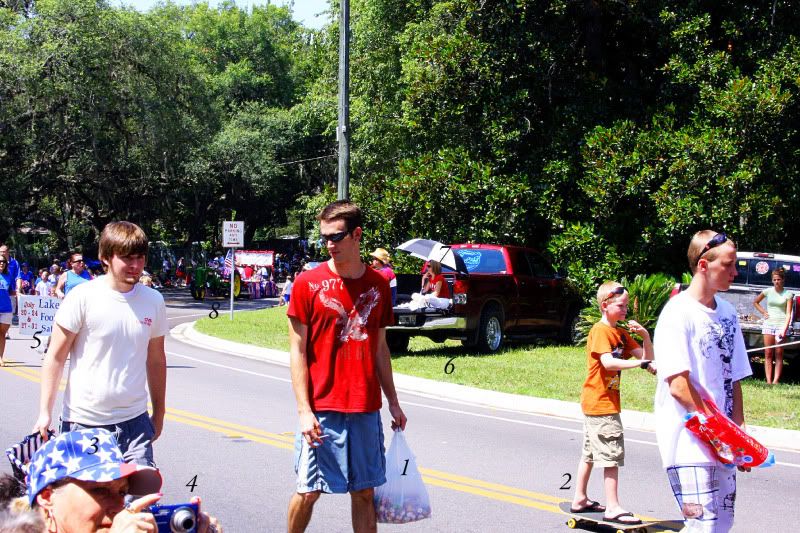 Important components of any good parade: 1) tons of candy to be handed, tossed, or thrown with abandon into the crowds; 2) skateboards - yep! they are everywhere, so why not in the parade?; 3) patriotic clothing - hats, shirts, pants, shoes, bandanas - all in stars and stripes; 4) cameras to take loads of photos to blog with :O); 5) banners everywhere - on booths, trucks, floats, being carried by hand; 6) tailgaters huddled up to watch the parade with family and friends; 7) a huge sun umbrella to attempt to block out the overbearing sun; and 8) tractors - hey! it's a southern thing!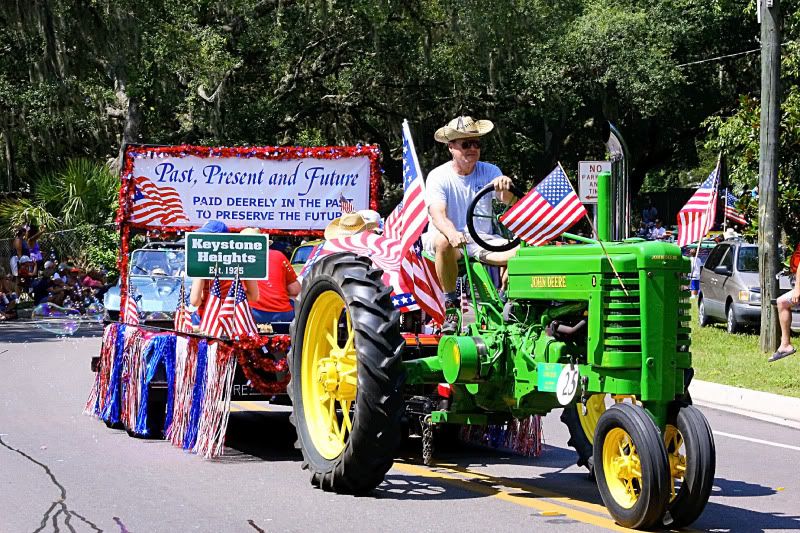 Did I mention tractors?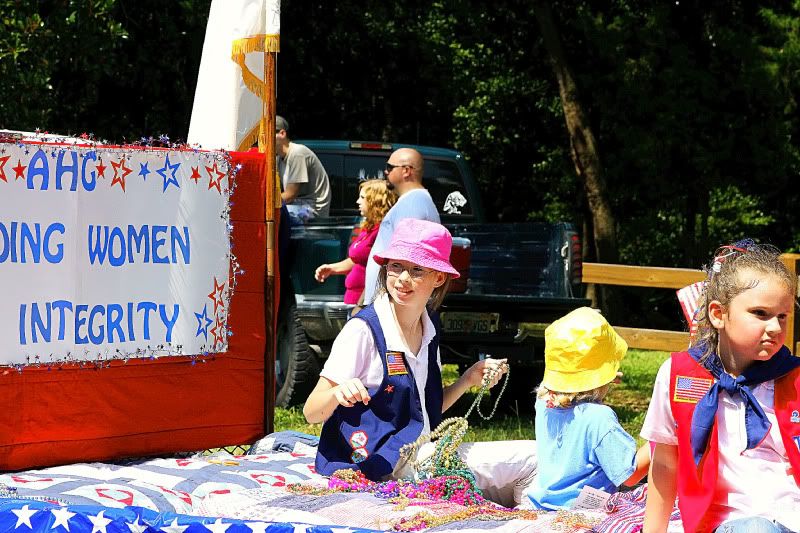 Beautiful young ladies on floats. I happen to know this particular beautiful young lady and immediately thought her mom would like to see this shot :O). Here you go, Peggy!


A little Civil War re-enactment. The man in the first shot told us to cover our ears when he raised his sword. That would be our signal that the cannon was going to boom! Silly me! All I though about was getting this last shot! Sword up, "fire", click! oh my gosh, he wasn't kidding!!! I can't hear a thing! But, hey! I got the shot :O).


Once the parade was over, I walked around the grounds a bit looking at the craft dispays and food booths. What a fun way to celebrate our independence as a country. God bless you, America! And a huge thank you to all the men and women who strive to keep our country free! And a big shout-out of thanks to their families for making that sacrifice! Love you all! Happy 4th, America!

I am using this post for my i♥faces entry this week. To check out some more patriotic photos, just click on their logo below. Have a great week!