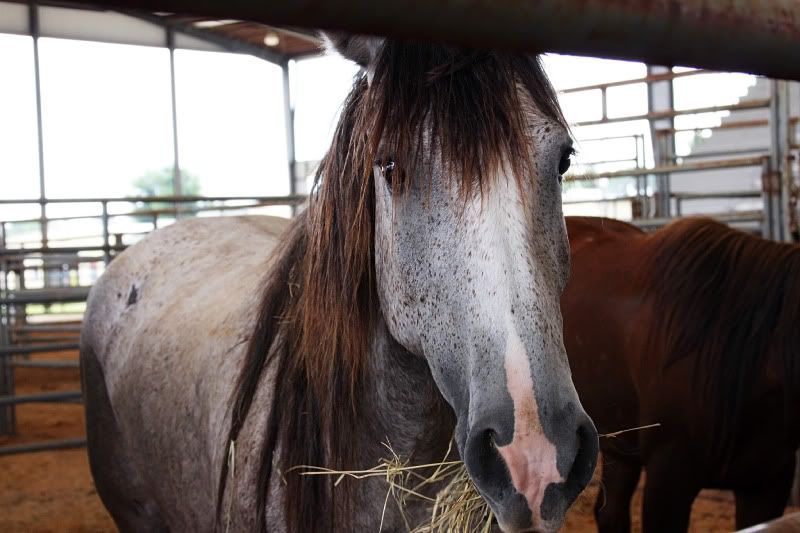 A couple weeks ago I heard a radio ad about some wild mustangs that were in our area. I went online to check it out. The U.S. Department of the Interior/Bureau of Land management was going to be showing some wild mustangs at the local fairgrounds and they were available for adoption for just $25.00 apiece.


We loaded up in the car and headed to the fairgrounds. We weren't in the adopting mode - no land to put them on yet - we just wanted to see what wild, straight from the plains, mustangs looked like.


The Bureau of Land Management proclaim these horses to be "unclaimed free-roaming horses on BLM administered public lands in the western United States." They bring them to this part of the country because there are a lot of horse ranches in our neck of the woods.


So we looked. And dreamed. Of course, we don't know a thing about taking care of a horse, let alone a wild one.


Any of these horses could be adopted for just $25.00. You had to have a certain amount of land for the horse to live on and meet certain other criteria. All I kept thinking was what would thepioneerwoman.com think if she saw all these wild horses, up close and personal :). I think she'd be in heaven!


The horses were inside a fenced corral under the livestock barn at the fairgrounds. As we arrived a truck was leaving, pulling a trailer with one of the horses inside headed for its new home. We wished our land was ready for a horse.


You know these horses were meant to run free. Just beautiful.


This is the horse that Kali settled on. She loved him! It was really hard to drive away and leave him behind. He really didn't want to get his picture taken either. I probably took twenty different shots and this was the best I got. That's also him two photos up, on the right-hand side of the collage.


Isn't this a beautiful horse?


Sorry, Kali, but it's time to go home now. Sorry, we don't have any place for this fine beautiful wild horse to live. And, I leave you with one last photo. I edited it up special in PSCS3 - just because I could.


Pretty easy edit actually. Go into PSCS3, click on 'filter', then 'stylize', then 'glowing edges'. Next, you use the slidebars to set your edge width, edge brightness, and edge smoothness. Slide the little slidebars until you are happy with the results, save, and post.

The Bureau of Land Management is supposed to be back in our area in a couple months with more wild horses and possibly some burros for adoption. Hopefully we will be ready by then. Personally, I want a burro!