Mark and I drove the jeep pulling the horse trailer out into the woods some humpty-dozen miles from the house this morning to pick up Gus. I believe Mark said Gus is a quarterhorse paint - if that means anything to you. All I know is that Gus is huge!


I went out to the ranch this evening and watched Gus and Rascal interact a bit. When we got there they were playing chase with the neighbors' four dogs. All four dogs scoot into the field under the fence. Then they run at the horses, barking like crazy. For awhile, Gus and Rascal ran around, letting the dogs bark and chase them. After a while, Gus got fed up with the litter yappers and kicked at one of them. All four dogs fled the field at that point. In the meantime, Mark was busy putting feed in their stalls in the barn. In the above picture you see Rascal and Gus trying to figure out how to get into the barn to get to that feed. They are on the wrong side!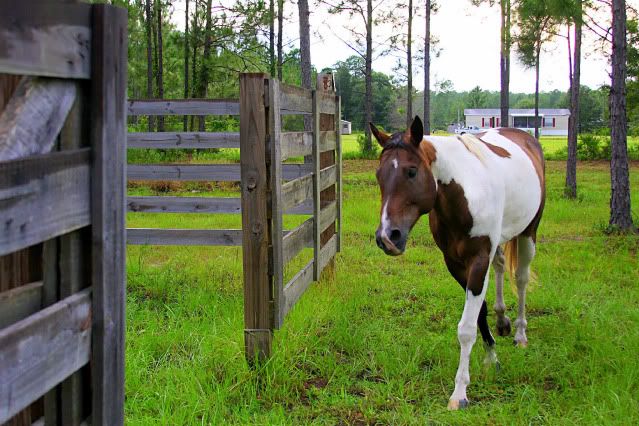 Rascal was the first to figure out he had to walk around the barn and enter where there is actually an opening.


Of course Gus followed. No sneaking anything past him :O).


Gus finished eating first - he wasn't quite as dainty as Rascal - and he came strolling out of the barn. Looking all nonchalant-like. And I'll check the spelling on that later :).


I'm loving that picture, so here it is again - close up!


Rascal took a loooong time to eat. He savored every nugget. And then casually strolled out past me. (Looks like he's saying, "there's that lady with the camera again!")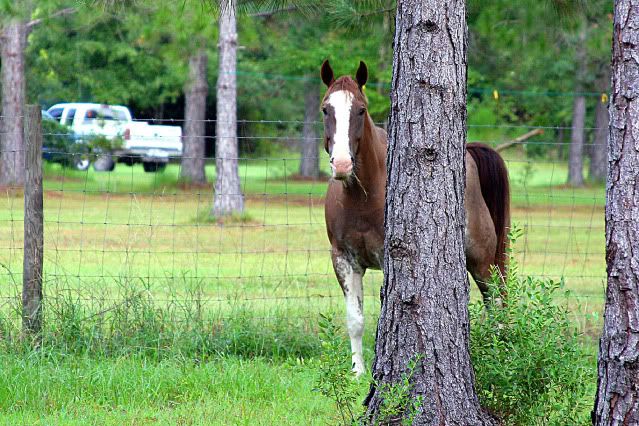 I was hoping for some running, or galloping, since I had my camera already set on sports mode. But, no! They both wandered off to the back of the lot and played peek-a-boo around the trees. Gotta love it!


Tomorrow morning these guys come home! Yay!!!