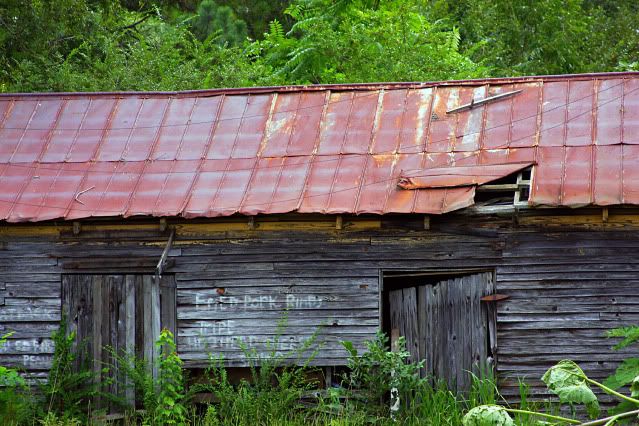 This week's You Capture challenge is Old Signs. All these photos were taken two weeks ago in an area south of Atlanta. (I think we were south of Atlanta.) This old barn was located in Haralson, Georgia. If you look at the side of the building you will see the words: Fried Pork Rinds, Tripe, Hogshead Cheese Inside. To the left it says something about peanuts, but I can't make it out. Sorry.


Here's a closer version.


This beautiful old building was around a corner. It appears to have been the home of Sipwell Home Coffee. The writing on the building reads: When you drink...Sipwell Home Coffee and features a drawing of a cup of coffee. My favorite part is the partial clock face.


This photo was taken in Warm Springs, Georgia, in a home called the Little White House. The home was built by Franklin Delano Roosevelt in 1932, when he was governor of New York. He frequented the warms springs as a soothing measure for his paralysis and enjoyed the area so much that he built a home there. FDR used his house as a presidential retreat while he was President of the United States. On April 12, 1942, President Franklin Roosevelt was in his living room posing for a portrait when he suffered a stroke. He died shortly afterwards. This picture is of a hand-written note that FDR's cook wrote on the kitchen wall the day the president died. It has been preserved for all to see.


Now this sign is neither old, nor of historical significance. I just found it amusing and thought my fisherman husband might enjoy it :O).


And this is neither old, nor a sign. While I was browsing through an antique shop, my sister-in-law Sandy brought this to me with a chuckle! We both loved it! And I just thought I'd share it with you - lol!

To check out some other Old Signs, head on over to You Capture/I Should Be Folding Laundry here.