Mark and I recently visited
Free Spirit Saddles and Tack
to purchase a bareback pad for Gus. Free Spirit is an online store whose owner and operator just happens to live not very far from us. Such a nice lady, she let us go to her home to pick up Gus's bareback pad and then she let us look through all her stock! We found this halter/bridle combo for Kali's horse Rascal - the pattern name is Navejo. You should really check out Free Spirit, you can click
here.
And be sure to look at all her pictures. She has some beautiful horses!
So here is Kali and Rascal wearing his new outfit :).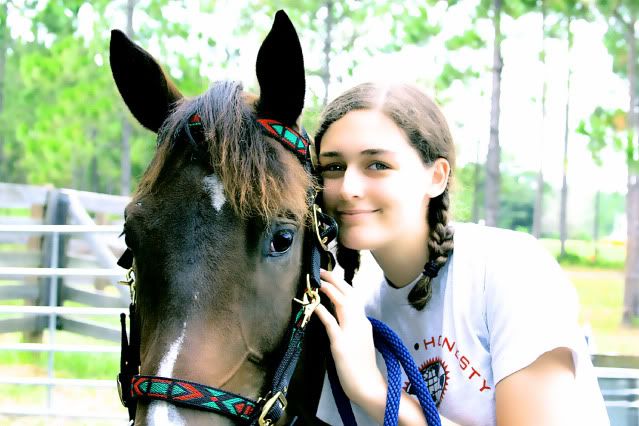 And, just because I can, here is an edited version of the above shot.
I have been playing with my editing actions and coming up with all kinds of cool pictures. For this one I used mcpactions.com's urban cover model action.
Neat! But I am positive Kali won't like it.
Though for the most part, she doesn't read my blog so it shouldn't be an issue - lol!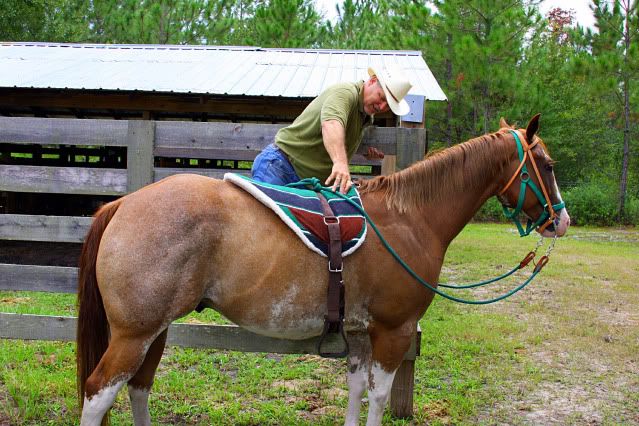 Here you can see Gus sporting his new outfit - a teal, navy, and rust bareback pad.
As Mark explained it to me - "
really excellent riders can ride a horse without a saddle. You just put one of these bareback pads on the horse. Make sure you can reach the stirrups so you can steer the horse in the direction you want
." JUST KIDDING :O) - Mark didn't really say that.
This pad is well cushioned, which means you don't need to use a saddle blanket.
It acts as a saddle, so you don't need a regular saddle.
It's lighweight, moves nice and easy, and your horse doesn't get overheated from wearing the normal saddle blanket and saddle.
Which, I guess, means you get to ride longer and your horse doesn't get mad at you :).
You may be asking why Mark is climbing up the side of the barn to get onto Gus' back.
Well, Gus is huge! That's why.
I think we need to buy a step ladder, or build a ladder onto the side of the barn to make getting on Gus easier.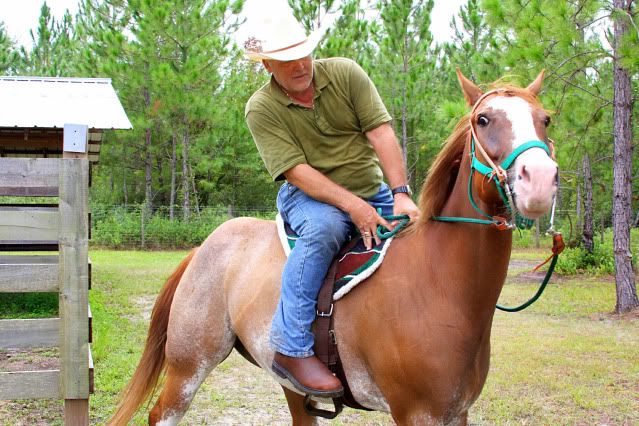 I failed to mention that the bareback pad has a little strap at the front that you can hang on to since it doesn't have a saddle horn.
This really comes in handy because once Mark gets onto Gus' back.....Gus just kind of takes off in whatever direction he wants for about 3 seconds.
Then it's all Mark...controlling Gus' direction. Yeah!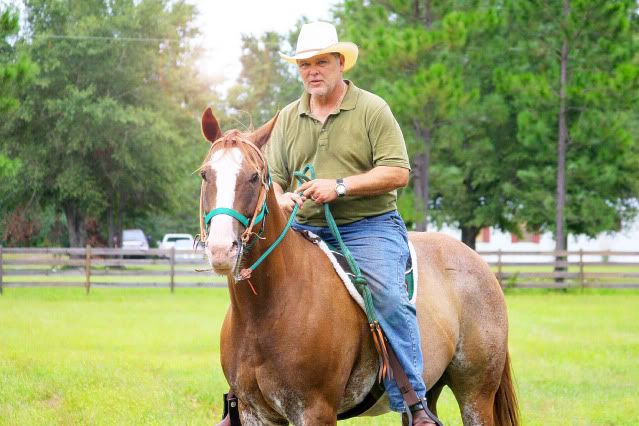 My favorite shot of the day! I love that solar flare! And Mark looks good, too :).
This one's pretty good, too!
Kali and Mark rode for awhile.
Until the rain started.
Remember we live in Florida?
Home of the neverending rainy day song?
Oh, well.
There's always tomorrow.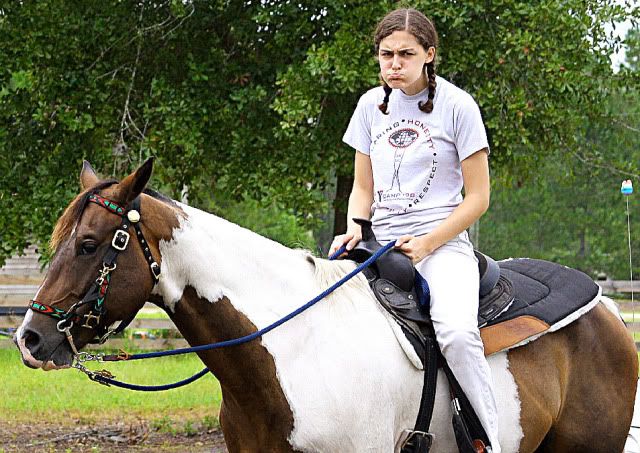 Not happy to be going home. Mostly she was just playing with the camera - lol!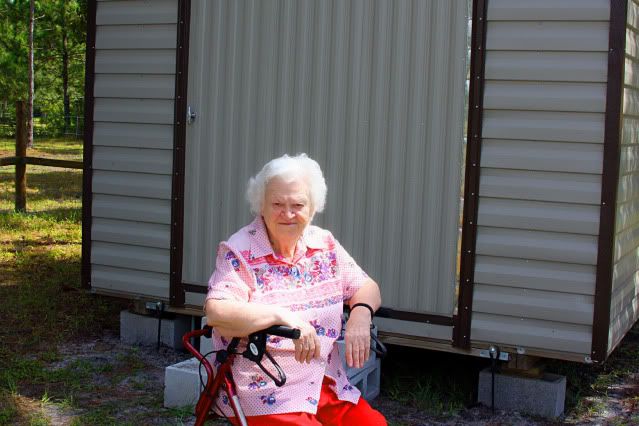 And then it really was tomorrow.
For the past 3 1/2 years, my mom has been in an assisted living apartment. She doesn't like to leave her town, I think she feels safer closer to home. Well, this particular day I went to visit mom and told her we were going for a ride.
This is where we ended up :). I wanted my mother to see our animals and our ranch.
She loved it! When we got there we put her walker near the fence so she could be close to the horses and the little donkeys.
I think Gus scared her when he came over to check her out.
Did I mention Gus is huge?
Anyway, we moved her walker back into the shade so she could watch the animals and feel a little safer at the same time :).
I really didn't think about pictures until it was almost too late.
Mom loved the horses and especially the mini donkeys - Mona and Hershey.
She kept saying how much my dad would love being there and seeing the animals.
Which he would.
I can just see my dad walking the fenceline and checking for gopher holes.
Miss you, Daddy! but so glad Mom was able to come visit!