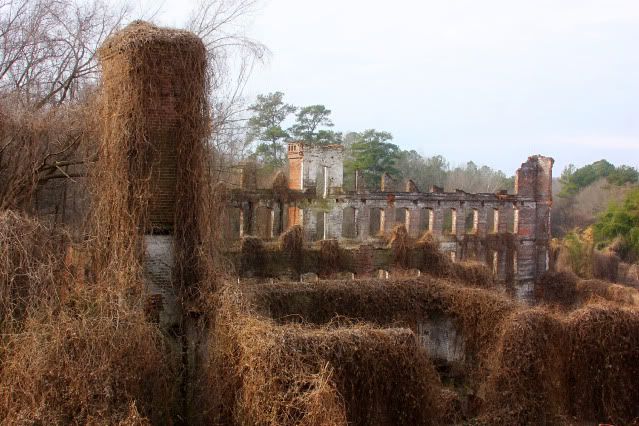 To be perfectly honest, I don't know if this was in Hamlet or Rockingham, North Carolina. I just know that I saw it the first morning as I drove from the hotel in Rockingham to the church in Hamlet where Masters was being set up.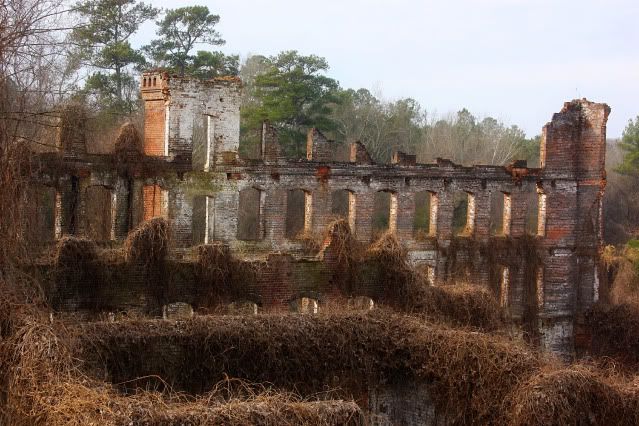 I was really intrigued by what I saw, so I turned Mark's big truck around in the middle of the highway and drove back. I wanted to get a closer look and maybe a few pictures - you know how I am. Always wanting one more photograph - lol!


You can tell from the other pictures that there were at least four or five stories to the wall in the background. I can't imagine what this might have been with the windows so close together. And I couldn't see this room at all from the highway itself. There wasn't anywhere on this side of the street to put the truck, so I pulled off across the highway and parked in a vacant lot. Then I carefully scurried across the highway, climbed over the guardrail (not so easy at my age and lack of agility), and that was when I spotted the open room.


I got a bit nervous as I shot pictures. I noticed several drivers slowing down to watch what I was doing. So, I got these shots, ran back across the highway, jumped in, locked the doors, and took off.

I have no idea what this structure used to be. I liked the way the earth was growing back up over the walls. Almost like it was trying to reclaim the land - lol!

I thought of two things: 1) I thought of Stephanie, my friend at church who loves architecture and wished she was there with me to admire this fine work; and 2) I thought about the new theme for ICC this year: Awakening. rise up, reach out. I think this was probably a beautiful building in its day. I think there is a story here that I will never know. But as I looked at the weeds and vines growing up and over the walls, I thought about the new life I have in Christ. The new awakening I have every morning - that He gives me - to live my life for Him and to do the things He wants me to.

I thought about the Awakening coming to Hamlet, with our 160 students converging on the town, and praying that Hamlet would never be the same again. That somehow our students would leave their impact upon the people of Hamlet. For the glory of God, the all-time Master. And I believe that happened.