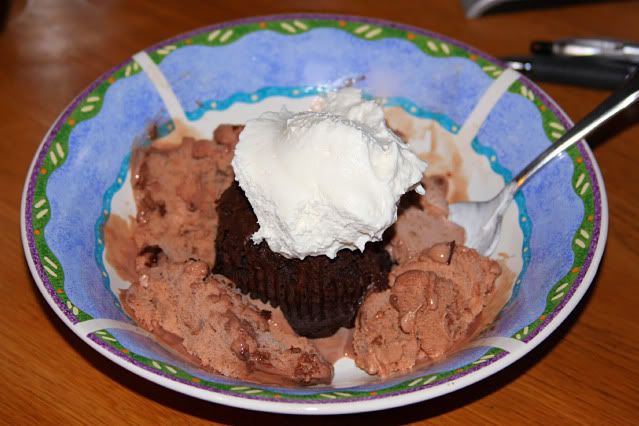 I realize my food photo isn't as pretty or neat as those on the Pioneer Woman's page, or on Bakerella's, or Bake at 350.

I started back to Weight Watchers two weeks ago. I've lost 11 pounds so far. Several people have emailed, or facebooked, me asking how I am losing weight.

At this week's meeting, our leader encouraged us to find healthy alternatives for the things we enjoy eating. Things that might be too many calories, or too many points since WW tracks points. Take those same foods and find substitutes for them within the structure of healthy foods.

So that's was this is a picture of. A healthy substitute. If I had used the brands I used to eat, this little dessert would have ran me about 700 calories. Using the products I substituted, this dessert is a mere 240 calories, 3 points in the Weight Watchers tracking system.

I used a 100-calorie Vitamuffin Very Chocolate muffin, added one Weight Watchers Chocolate Fudge Brownie Cup, and topped it off with fat free Cool Whip. Yummo! It's all about subsitutes and alternatives. And a healthier lifestyle.